Battlefield
::Visit Our Plant... Tour Historic Gettysburg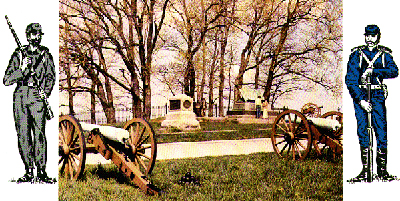 The town of Gettysburg was founded in 1780 by James Gettys. It is beautifully set in a rich rolling country only a few miles north of the Mason-Dixon Line and in the midst of one of America's greatest apple and fruit sections.
It was the scene of the decisive battle of the Civil War, July 1-4, 1863. On November 19 of that year, President Abraham Lincoln dedicated the National Cemetery and delivered what has become known as Lincoln's Gettysburg Address. Thousands of Civil War dead are buried there along with veterans of World War I, World War II, Korea and the Vietnam conflict.
The present population is approximately 10,000. About 1 1/2 million visitors come to Gettysburg annually to visit the battlefield, President Eisenhower's farm, local museums and other attractions.